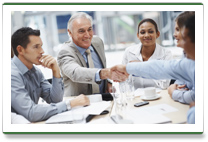 For your business
Compensa Life
respects business people and knows which questions are relevant to the enterprises of different sizes and profiles. We believe that the protected business generates higher value and strengthens the reputation of an enterprise in every field, and the investments in motivation of employees are the engine of every growing business.
Being aware of the importance of cooperation between enterprises, we hope to be the useful and loyal partner of each business customer. For convenience of your business, the specialists of Compensa Life may advise on any issue related to life and health insurance and help to choose the most optimal option from all offered insurance services.
Enterprises are offered health insurance under which their employees are provided with various quality medical services according to the choice of the employer. Investments made in a secure job help to develop the successful business: legal entities may be covered by guaranteed interest life insurance or investment life insurance, and the retirement investment insurance may be used as a loyalty enhancing tool for the best specialists.
Compensa Life knows that the needs of each customer are unique; therefore the residents are offered the entire range of additional insurance services for safer future.