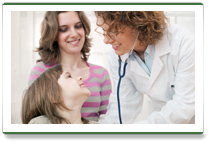 Health insurance
Voluntary health insurance means insurance of employees paid by an enterprise. The insured employees may use the personal health care services specified in the insurance contracts and covered by the insurance company after occurrence of the insured event.
Benefits to the enterprise:
Favourable tax system;
Time saved by the employee in medical institutions is devoted to work;
Fast provision of the quality health care services decreases the number of days of sick leave even several times;
Your employees will be loyal to you;
Health insurance is an great employee motivation tool;
Mutual partnership, i.e. the most rapidly achieved result.
Benefits to the insured
The insurance company will provide you with the opportunity:
To undergo preventive health check-ups or to be vaccinated in the desired medical institution;
To perform all examinations which are necessary for making accurate diagnosis in a quick and qualitative manner;
To strengthen your body with health promotion treatments (sports clubs, massages, etc.), vitamins;
To use dental, rehabilitation treatments (massages, kinesitherapy, etc.);
To acquire medicines, optical or medical aids.
The individual health insurance programmes are developed according to the needs of every enterprise and determine the health insurance premium. Each Insured is provided with personalised health insurance card. With this card the Insured will be served by those Partners, that have entered into agreement with Compensa Life.