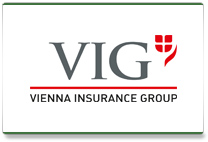 Vienna Insurance Group
"We focus on providing our customers in Austria and CEE with custom products and services tailored to their needs. Our strategy is geared towards long-term profitability and steady earnings growth, making us a reliable partner in rapidly changing times."

Over 25,000 employees work for the Vienna Insurance Group, at around 50 companies in 25 countries. We develop insurance solutions in line with personal and local needs, which has made us one of the leaders in the insurance industry in Austria and Central and Eastern Europe (CEE).
Expertise & Stability
The Vienna Insurance Group is an international insurance group headquartered in the Austrian capital. After the fall of the Iron Curtain in 1989, VIG expanded rapidly from a purely Austrian business into an international group. VIG is synonymous with stability and expertise in providing financial protection against risks. The Group's origins date back to 1824. Almost two centuries of experience, coupled with a focus on our core competence of providing insurance coverage, forms a solid and secure basis for the Group's 20 million-plus customers.

Focus on Central and Eastern Europe
Besides Austria, VIG places a clear emphasis on Central and Eastern Europe as its home market. The Group generates more than half of its premium income in CEE. VIG's operations are also focused on this region. This primarily reflects the forecasts for economic growth in CEE, which is predicted to be twice as high as in Western Europe, as well as the current level of insurance density, which is still well below the EU average.

Local Market Presence
For VIG, protecting customers financially against risk is a responsibility. The Group pursues a multi-brand strategy based on established local markets as well as local management. Ultimately, the Group's success and closeness to its customers is down to the strengths of each individual brand and local know-how.
 
Strong Finances & Credit Rating
VIG has an A+ rating with stable outlook from well-known rating agency Standard & Poor's, meaning that it remains the top-rated company on the Vienna Stock Exchange's index of leading shares, the ATX. The Vienna Insurance Group is listed in both Vienna and Prague. Wiener Städtische Versicherungsverein – a stable core shareholder with a long-term focus – owns around 70% of VIG's shares. The remaining shares are in free float.

Further information on VIG is available at www.vig.com and in the folder "Our best sides".